Clear Channel UK
Clear Channel is the UK's leading Out of Home media owners, with a national portfolio of over 35,000 advertising sites, including classic posters, billboards, and digital screens.
Saentys was invited to pitch for Clear Channel on recommendation.
Though the full pitch deck can't be shared, some relevant slides are displayed below.
View prototype ︎︎︎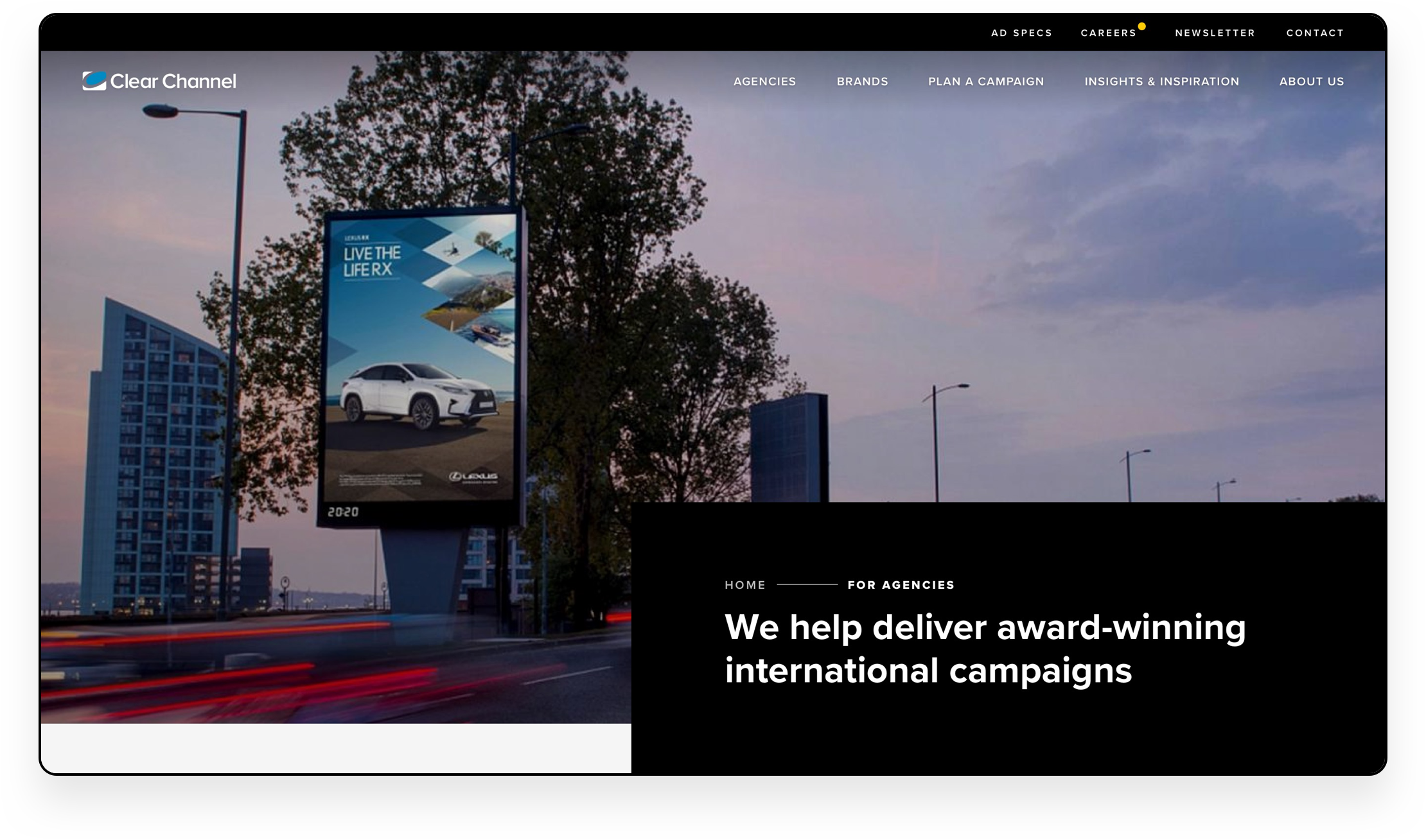 The Project
I took the strategic and creative lead for this project, producing a pitch deck that demonstrated our research through discovery, competitor audits, and interpretations, and how that informed our creative proposal.
We identified in initial briefing that Clear Channel needed their new UK website to fulfil the following goals:
position Clear Channel as industry leaders

streamline content discovery through the site's navigation
help users understand what Clear Channel product suits their needs best
make it easier for Clear Channel to recruit directly through the website
Tertiary to the above points, but still worth considering, was that Clear Channel wanted the new website to pave the way in levelling up their other websites - all of which had different designs at the time of this project.
Personas
A key challenge of this project was to understand the OOH industry, and what the demands of Clear Channel's clients could include. Extensive research into OOH resellers and specialists, as well as media agencies and creatives was needed in order to gauge how easy it would be for individuals in these specialist areas to navigate the website.

Sitemap
End result

Unfortunately we didn't win this pitch. The proposed timeline was too long, and Clear Channel was particularly hopeful for a website that could be designed and developed before the end of the year.

Comparing our pitched concept to the current Clear Channel website, it's interesting to note the different approach they made to tackle the same issues we highlighted in our pitch deck. The original website was confusing to navigate and it was difficult for freelance creatives or businesses to identify how they book a Clear Channel unit for use. Their currently launched website addresses this with a new Resource Centre in the menu, and a call to action to their Clear Channel Direct website for businesses working without an agency contact.